Moldova World Children's Fund Update
Many of us recall the American fairy tale of the Little Dutch Boy who, some 150 years ago in Haarlem, Holland upon finding an expanding crack in the town's dike, put his finger in the hole stopping the leak. He held on with valiant perseverance until help arrived, thus saving the city from devastating flooding. Analogous to this tale has been the real-life work of the Moldova World Children's Fund (MWCF) small team on the ground helping cope with the flood of Ukraine refugees pouring into Moldova.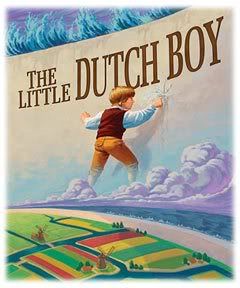 Moldova, the least developed country in Europe, is surrounded on three sides by Ukraine. Approximately 450,000 refugees have passed through Moldovan border checkpoints…in relation to Moldova's size, nearly three times as many as those arriving in any other country. Most of these continue their journey to Romania, a NATO member country. So far, close to 100,000 have chosen to stay put in Moldova…around half are children.
From the beginning of the Russian invasion in February, MWCF responded by providing partner donated blankets, soap, clothes, and wheelchairs for the initial triage and refugee relief stations. Over the first eleven weeks of war, MWCF has provided thousands of mattresses, pillows, blankets, folding beds, and sleeping bags, primarily made possible by a $240,000 grant from Global Empowerment Mission (GEM) and SmartAid. Individual donors to MWCF have contributed another $325,000 which has been used mostly for high nutrition food bars, canned foods with liftoff lids, bulk food items, cooking oil, baby food, infant diapers, and adult diapers often being used as sanitary medical dressing for substantial battlefield injuries. A good portion of the MWCF-provided aid is reaching the front lines in Ukraine…for every refugee leaving Ukraine, there are several other desperate people displaced from their homes in Ukraine by the brutal onslaught.
MWCF's Vice President for Moldova Operations John Maxemchuk and longstanding colleague Irina Rusanovschi, President of (Chisinau, Moldova based NGO) International Center for Collaboration and Development "PHOENIX" have been working around the clock from day one of the invasion. The list of MWCF and PHOENIX partners on the ground include:
MWCF is continuing to provide transportation and/or logistical management of large amounts of humanitarian aid from the USA, Canada, France, Switzerland, Italy, Germany, Poland, and The Netherlands…including millions of dollars' worth of antibiotics, painkillers, and other medicines for battlefield type injuries directly into Ukraine.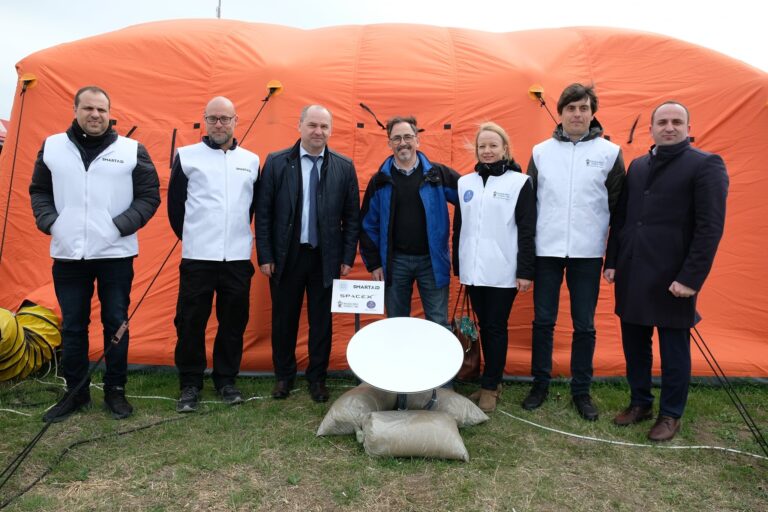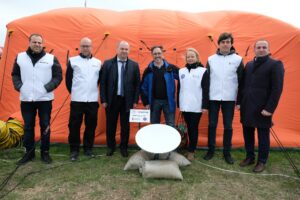 Elon Musk, through his internet provider Starlink/SpaceX has contributed 30 dedicated satellite dish systems. The units survived a fire at one of MWCF's four storage facilities and are being distributed and setup in vital locations for refugees to communicate with their besieged families in Ukraine.
MWCF and its partners have obtained large mobile solar generators to supply electrical energy where most needed. One is positioned at the Palanca border crossing near the port city of Odessa on the Black Sea. A second, targeted for a bomb shelter at the Mother & Child Hospital in Chisinau to support intensive care/emergency medical contingencies.
Five multi-shower and multi-toilet mobile buildings are being constructed…the first two in position at the Palanca refugee camp…and placed under the operating responsibility of Civil Protection and Emergency Situation Service of Moldova.
We are working with Dell Technologies and the Moldova Ministry of Education setting up classrooms for refugee children to continue their schooling. Each classroom is being equipped with furniture, laptops, headphones, internet connections, and salaried Ukrainian language teachers and aides.
The major concern at this point in the war is Putin's scheme to capture Odessa, effectively cutting Ukraine off from the Black Sea. A full blown attack on this area of southwestern Ukraine will prompt a desperate rush of refugees toward Palanca at the Moldovan border. Next up on Putin's shopping list is Moldova. The best source of information about the overall ongoing crisis, non-political and propaganda free, are the weekly roundups prepared by David Smith:
https://moldovamatters.substack.com, entitled Quick Hits.
With having been actively engaged in Moldova for over 20 years, MWCF is ideally suited for rapid response to the crisis…unlike foreign governments and large international charities with their slow-moving bureaucracies or limited on-the-ground capacity where refugee aid has been lagging. Like the Little Dutch Boy, we need for the large calvary to arrive. Many of us are angry, frustrated, and anxious to help the hurting people of Ukraine…here is a way to play an important role.
MWCF is a registered 501(c)(3) public charity (EIN: 14-1942074). All gifts are tax deductible to the extent allowed by law. Contributions can be made by postal checks to Moldova World Children's Fund, P.O. Box 548, Hendersonville, NC 28793-0548 (USA) or by using the donate link on the www.moldovawcf.org website. You are encouraged to continue your generosity and to share this report…and the accompanying attachments…with others who you believe have a caring interest in our continuing efforts.
For the most part having recovered from knee surgery, the plan is for me to head to Romania/Moldova/Ukraine on May 24th for five weeks and will best be reached by email.
Thank you, Ray West, president, MWCF
Ray.West@moldovawcf.org | Phone: (USA) 828-551-8209 | www.moldovawcf.org